Read this News in: English | Igbo | Hausa | Yoruba
The Nigeria Police Force, Ebonyi State Command, has killed two kidnappers in Ezzagu Community in Ishielu Local Government Area of the state, yesterday.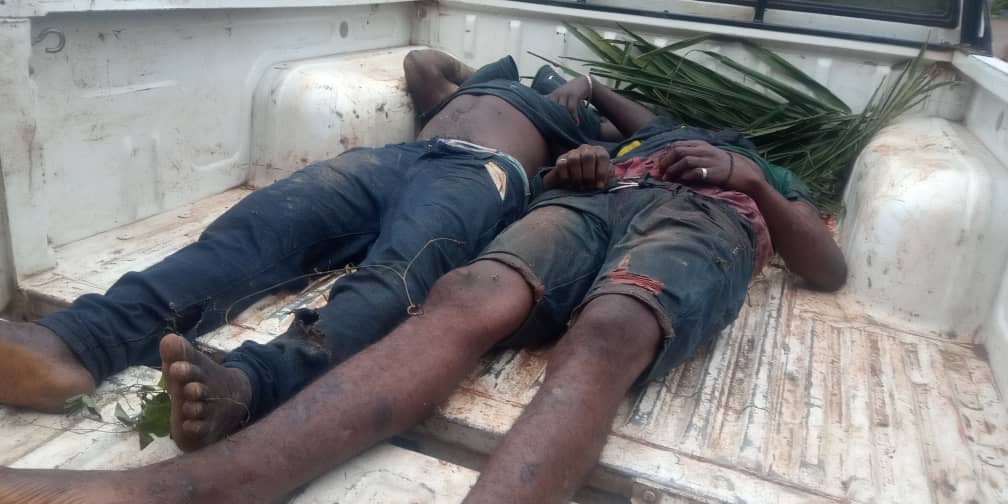 The Police Force also arrested a suspect who abducted his victims from Enugu State and took them to Ebonyi State, in Ikwo Local Government Area.
The duo, who were indigenes of Ezzagu Community, were shot dead during a gun battle by a combined team of the SARS and AK unit of the Ebonyi Police Command.
The armed police team stormed the area to rescue three of their victims who were kidnapped on Wednesday. They include 2 young men and a girl who is yet to be rescued by the police.
Parading the suspects at the Police Headquarters, Abakiliki, the State Public Relations Officer of the Command, DSP Loveth Odah said that two of their officers sustained bullet wounds during the separate operations. She added that the command is still combing the forest to rescue the female victim.
She continued, "So yesterday, 24th July, we received information from the Police Command in Enugu State, that one Obasi Chijoke was kidnapped and was being taken to Ebonyi State by his abductors".
"So we circulated the message, blocked major roads in the state, and discovered that the kidnappers had dumped the victim at AE-FUNAI after collecting a ransom of 1 million naira from the victim".
"While escaping with a Toyota Corolla car, they engaged policemen in a gun battle and one of them was captured while the others ran into the bush leaving their guns".
"Two police officers sustained bullets wounds and are responding to treatment".
"Still on that same fateful day, we again got a call that one Stanley and Kingsley, who were conducting their business transactions at Ishielu were kidnapped by the village youth leaders".
"So we went into action. We arrested two of the hoodlums, one serves as the Village Public Relations Officer and his name is Chinoso Ubo. He took us to their hideout".
"Items recovered from the kidnappers include live ammunitions, one AK-47 gun, one pump-action, charms, ATM cards, and a Toyota Corolla salon car", she explained.
In his reaction, one of the rescued victims who hails from Agwu Local Government Area of Enugu state explained that they only had the opportunity of eating once throughout their stay in captivity for three days.
He also confessed that he was forced by the hoodlums to have sex with his sister.
However, a reliable source from that Police Command has told Hanoky Media that the girl has been rescued and is still responding to treatment at the hospital.
The source also added that the girl sustained serious degrees of injuries related to sexual abuse.